To answer this question accurately we need to make a distinction between the name jet ski and personal watercraft (PWC). Whilst a commonly used name for PWCs is jet ski, this is actually a trademark of the Japanese manufacturer, Kawasaki.
For the purposes of this article, I will use the name jet ski as a name for PWCs, and it could be interchangeable at times as I talk about when they were first invented, including some history of their development and popularity.
When were jet skis invented? The first ever stand-up Kawasaki jet ski was invented in 1972. However, the first ever sit-down PWC was released in the 1960s by Bombardier Recreational Products, which was the forerunner to the jet skis we know and love today.
Who invented the jet ski?
The original name for jet skis was water scooter, and a version was first invented in the UK back in the mid-1950s.
However, jet skis and PWCs as we know them today, started to take form when the American inventor Clayton Jacobson II of Lake Havasu took the water scooter design and decided to power it with a pump jet instead of an outboard motor.
So, the inventor of the jet ski or PWC is commonly said to be Clayton Jacobson II as he is responsible for implanting the pump jet mechanism which is how we view jet skis in the modern age.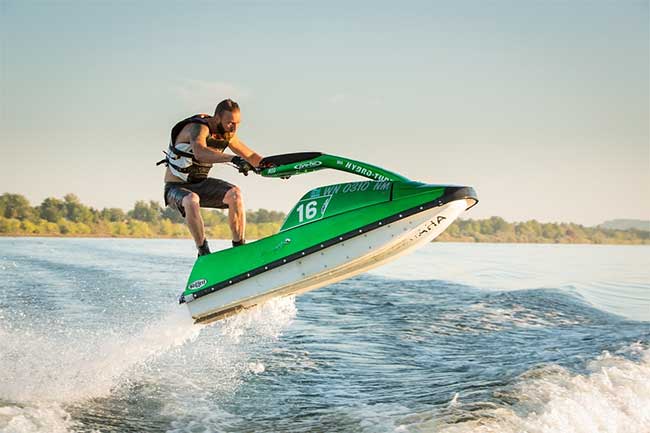 Did You Know? The name Jet Ski is actually a trademark of Kawasaki. Just like we use the name Hoover for vacuum cleaners, the catch all name for these vessels is actually personal watercraft (or PWC for short).
What was the first jet ski?
The first jet ski was a PWC an aluminum vessel with an upright handle. Clayton Jacobson II developed a working prototype by 1965.
However, if we are talking about the classic jet ski design that we all know and love which has the stand-up operation, we need to look to the Japanese company, Kawasaki.
Kawasaki took the sit down PWC design and came up with a stand-up model that was released onto the commercial market in 1972. 
Jet ski history and key dates
Here's a potted history of jet skis, with the key dates from invention through to where personal water crafts are today.
1968: Bombardier Recreational Products release the Ski-Doo PWC.
1972: Kawasaki invents the first ever stand-up jet ski in October of 1972.
1982: Kawasaki release their first sit-down jet ski.
1995: Kawasaki release their first stand-up jet ski with dual carburettors.
2011: Kawasaki release the last of their two-stroke stand-ups (some can read very fast speeds).
When did jet skis become popular?
With Kawasaki's market entrance, the jet ski and PWC niche started to take off from the mid 1970s onwards. Unlike the old water scooters, riders were able to now do so much more than what they had previously been able to.
Being able to sit down let riders control PWCs a lot more, and it was also now possible to have two riders get on at once. This social aspect really helped to increase their popularity.
Jet ski usage statistics
Fast forward to the modern day, jet skis and PWCs are now more popular than ever.
According to data released by the National Marine Manufacturers Association (visit website), sales of jet skis and PWCs are more than powerboats. If we look at sales data from 2016, the market has grown by 7.4%.
In the United States alone, 2016 saw around 60,000 jet skis sold, which was almost a quarter of all powerboat sales.
When you also add in the numbers of used jet skis being sold in 2016, there's an additional 130,000 PWCs being bought in that year.
Handy Hint: If you are buying a used jet ski, you need to know how important the hours on the clock are before you buy. Click here to find out what you should look out for.
The most popular state for jet ski sales is Florida, and I don't think that will come as any surprise. Florida accounts for 14.3% of total PWC sales, with Texas coming up in second place with 8.9% market share and then Michigan with 5.6%.
Conclusion
Jet skis are going to rise in popularity even more over the next decade or so, and it's a topic that we will continue to cover on Outdoorasaurus.
In fact, we've recently put together a guide to all the essential gear jet skiers need to get started. Check that out to see what our writers and outdoor enthusiasts have reviewed recently.
Now you know when jet skis were invented and who originally invented the PWC, you can talk in confidence should this topic ever come up. And why shouldn't it? Jet skis are amazing!