Jet skis, especially the fast accelerating ones are awesome fun. Nothing quite beats the thrill and exhilaration you get from jumping the waves. However, some are faster than others with some amazing top speeds available. Below you can find out more about jet ski top speeds and a list of the fastest production jet skis.
How fast can a jet ski go? A typical jet ski has an average top speed of 65 mph. The fastest production jet skis can accelerate to over 70 mph while the slowest are capped at around 40 mph. The speed of a jet ski is determined by its engine power.  
The engine of an average jet ski produces between 150 and 200 horsepower. The higher the horsepower, the faster the jet ski can accelerate. Other factors that affect the speed include the engine thrust, engine torque, exhaust system, intake, and the shape of the hull.
Jet ski top speeds
Below I've looked at some of the most popular models of jet ski from 2018 and 2019. Below you can see them listed with their model name followed by what the top speed of the jet ski is.
Kawasaki Jet Ski Ultra 310LX – top speed of 70 mph
Kawasaki Jet Ski Ultra 310R – top speed of 67 mph
Yamaha FX Limited SVHO – top speed of 67 mph
Sea-Doo RXP-X 300 – top speed of 67 mph
Yamaha GP1800R – top speed of 67 mph
Sea-Doo RXT 230 – top speed of 67 mph
Kawasaki Jet Ski STX-15F – top speed of 62 mph
Kawasaki Jet Ski Ultra LX – top speed of 55 mph
Sea-Doo GTX 155 – top speed of 55 mph
Yamaha WaveRunner VX Cruiser – top speed of 54 mph
Yamaha EXR – top speed of 54 mph
Yamaha VX Cruiser – top speed of 54 mph
Sea-Doo GTS – top speed of 44 mph
Please note: When I say jet ski (which is a trademark of Kawasaki) I am also referring to personal water crafts (PWCs) and will use the two names interchangeably.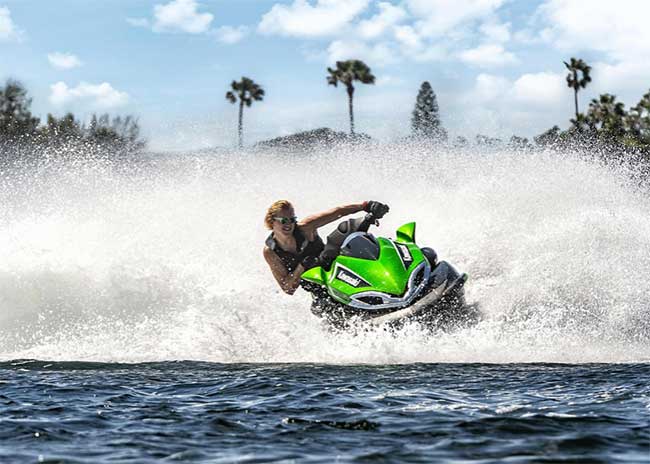 What is the average top speed of a jet ski?
When we take those 13 popular PWC models listed above, we can crunch the numbers to tell us that the average jet ski top speed in 2019 is 60.2 miles per hour.
What is the fastest jet ski or PWC?
Based on my research, the fastest production jet ski you can buy on the market right now would be the Kawasaki Jet Ski Ultra range, with top speeds ranging from 67 to 70 miles per hour.
Kawasaki's two main competitors in the PWC market, Sea-Doo and Yamaha, also have PWCs that can go as fast as 67 miles per hour.
What is the fastest jet ski in the world (record holder)?
The fastest jet skis on the market that you'll find in the U.S. don't often get past the 67 mph mark. Companies used to compete on who was able produce the fastest jet ski until the Coast Guard raised concerns in recent years.
Is there a speed limit for jet skis?
This resulted in an agreement in 1999 being put in place to limit the top speed to 65 mph with an allowance of 2 mph over. It's an informal agreement between the manufacturers and US coast guard. Jet ski and PWC companies instead switched their focus to better stop time and acceleration metrics.
However, this didn't stop them from achieving the fastest speeds in world record breaking attempts.
The record for the fastest jet ski is ever changing. The Yamaha FZR, Kawasaki Ultra 310R, and Sea-Doo RXP-X have all recorded speeds of 67 mph. Depending on how much fuel they carry and the weight of the rider, speeds can actually go beyond 80 mph if the PWC has been modified.
PWC speed world records
The unofficial World Record for the fastest PWC or jet ski was a top speed of 123.2mph recorded by Uva Perez in 2017.
The previous record holder was 112mph by Maikel Gonzalez at Morgan City, Louisiana on 3rd May 2014.
Prior to that Reggie Sanchez accelerated to 106 mph at Tavares Florida on 20th Oct 2013 and Joseph Mastrapa of Miami USA hit 101.7 mph in November 2012.
The current record holder rides a PWC powered by a V6 engine that achieve 342 horsepower. It also features dual 1130cc 3-cylinder engines built into the system. The craft is a rare sight as it hardly ever appears on common waters.
Maikel Gonzalez previous world record was achieved in a modded performance jet ski at a closed course competition. It was later broken by Uva Perez who clocked 123.2 mph in his customized and turbocharged Yamaha watercraft in 2017.
You can't buy any of these high-performance models on the market as they have all been heavily modified to achieve fast acceleration.
How to make your jet ski faster
If you are interested in making your stand-up jet ski faster, then you need to invest a lot of money. If you consider buying jet ski accessories, a common rule of thumb is to budget every $1,000 for an extra 1 mph.
Below are some of the tips you can implement to make your jet ski faster:
1. The right conditions
Choppy and salty water can slow down your jet ski due to added drag. Environments with high air pressure and humidity can also slow down your engine's performance.
Riding in controlled environments on a clear day can maximize your speed. However, finding waterways with such ideal conditions takes research and time.
2. Riding weight
Riding with fewer items within the storage compartments and less fuel can increase the speed of a jet ski.
It allows you to top at a speed higher than what you'd achieve with a full tank and extra weight on board.
3. Modifying your ride
If you'd like to go over the top speed of your jet ski, adding or removing performance parts can make your jet ski go faster.
For example, removing the GPS-controlled speed limit provides more room for added speed. Upgrading or removing the intake grate can also help to increase speed.
4. Pay a tuning company
If you're not able to carry out any modifications by yourself, there are companies that specialize in tuning jet skis.
They will make the necessary changes to your jet ski to achieve the desired speed. This is a good option if you wish to get the job done the right way and safely.
5. Upgrading the impeller
Impellers come in different designs. Some are built to improve acceleration while others to boost speed. The angle and type of an impeller greatly influence the change you'll experience in your jet ski.
It's possible to find one that is perfectly balanced to give out the best performance.
Popular jet ski and PWC brands
The most popular jet ski brands are Yamaha, Kawasaki (who hold the jet ski trademark), and Sea-Doo. The last two have built a reputation for producing some of the fastest models available today.
Let's take a closer look at them, with some more notes on their fastest jet skis on the market.
Sea-Doo
The Sea-Doo RXP, in particular, is the fastest watercraft that's powered by a traditional-engine. It comes with a 255-horsepower engine that gets it from 0-55 mph in 2.9 seconds. It also tops at over 70 mph.
The brand is also known for producing jet skis designed for specific needs. If you need a jet ski for pulling, Sea-Doo is the brand for you.
Kawasaki
Kawasaki watercrafts are similar to those built by Sea-Doo. Those in the Ultra series (Ultra X, LX, and 260 LX) are powered by a 1498cc engine that tops at 70 mph.
Kawasaki is also the company behind the trademark jet ski, a name commonly used to refer to personal watercrafts. It produces some of the most expensive and stylish watercrafts available today.
Handy hint: Want to know more about the history of the jet ski and PWC? Click here to find out who invented jet skis and some timelines in their development.
Yamaha
As for Yamaha, the company builds the most durable engines on the market. They are also simple to work on. The average model features a simple engine setup that allows owners to do their own maintenance and oil changes.
Yamaha also features the best fuel economy and is known to take extra safety measures when building PWCs. Despite them being pricier than those built by Sea-Doo, these jet skis save you more money when it comes to fuel consumption and maintenance.
How to keep safe when riding a jet ski
While jet skiing is a lot of fun, it can be very dangerous, particularly when operating at high speeds.
Driving a jet ski can be compared to handling heavy machinery that's propelled by a powerful engine. Past jet ski accidents have recorded some of the worst injuries. They include broken wrists, crushed limbs, burns, concussions, and head injuries.
Consider the following safety tips before riding a jet ski:
Wear a life jacket and ensure that it's the one recommended by the U.S. Coast Guard for jet skiing. Make sure that it also fits well.
Wear a watercraft helmet to prevent head injury if you ever fall off a jet ski.
Consider dry docking rather than leaving your jet ski floating on water. Materials washed ashore can cause wear and tear, hence, interfering with the operation of your watercraft. Use a jet ski lift to raise your craft out of the water.
Make sure that your jet ski is fitted with the appropriate equipment according to the regulations set up by the U.S. Coast Guard. Some of the equipment you'll need include a ventilation system, a functional backfire flame arrestor, signalling device, vessel registration, and a fire extinguisher.
Avoid using a jet ski while inebriated. Operating your watercraft while drunk can endanger other vessels. Also, any damage caused to your jet ski while under the influence will not be covered by your insurance policy.
Be aware of your surrounding and consider the safety of others. You're likely to encounter other jet skiers, boat riders, swimmers, surfers, and scuba divers as you ride.
Consider taking a jet ski safety course. This will help you familiarize yourself with the basic operating features of PWCs. Some companies offer insurance discounts to those that have undertaken approved safety courses.
Other interesting facts
How many miles can a jet ski go on one tank?
A typical jet ski will consume 10 gallons of fuel every hour at full throttle. The average size of a jet ski gas tank is about 16 gallons, meaning you get 1.6 hours of full throttle with a full tank.
What is the average cost of a jet ski?
The cheapest jet ski starts at $5,399 while the most expensive can go to as high as $17,999. Sea-Doo makes the most affordable jet skis on the market.
Conclusion
Jet skis are fun, fast, and action-packed. With that water shooting up out of the back of them (find out why), you are in for one heck of a ride.
Now that you know how fast a jet ski can go, I'd recommend you take a training course before even considering buying one.