I grew up around the water and spent every summer down in Florida with my grandparents. My cousins all drove jet skis, meaning I had an introduction to this water sport at a very young age. However, it was only recently that I figured out I must have been breaking the law back in the day, as there is a legal age in Florida to drive a jet ski.
How old do you have to be to drive a jet ski in Florida? To drive a jet ski in Florida you must be at least 14 years old. If younger than 21 you will also need to have a boating education certificate and carry photo ID. You can only rent a Florida jet ski once you are 18 years old.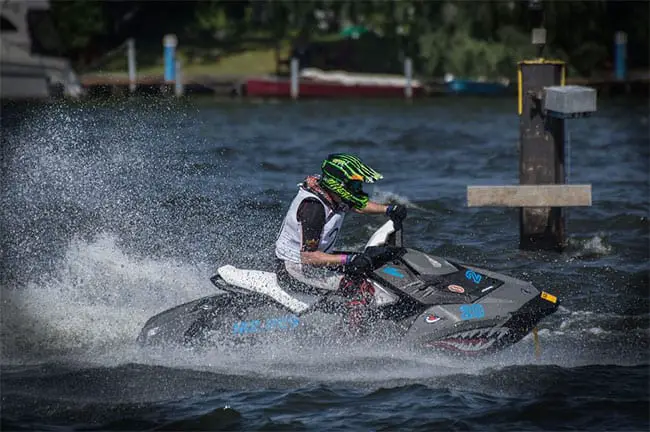 Age restrictions on jet skiing in Florida
I won't tell you how old I was when I started driving a jet ski on my Florida vacations, but needless to say it wasn't anywhere near the legal requirement! Just as well my mother never found out, as she would have killed me!
As you can see from the short answer above, there are a few things to consider. Whilst the legal age to operate a jet ski or PWC (personal water craft) in Florida is 14 years old, the rule is different when renting. I will come onto that in a moment.
Need Jet Ski Gear? We've put together a list of the very best jet ski gear and accessories that money can buy. All have been reviewed and rated for reliability and safety.
If you are between 14 and 21 years old, Florida state law requires you to also hold and carry a boating education ID card as well as an acceptable form of photo ID to drive any vessel over 10 horsepower.
With most jet skis starting out with a minimum of 100 horsepower, that pretty much means you will need to be carrying ID at these ages as soon as you sit yourself down on one.
How old do you have to be to rent a jet ski in Florida?
And here's where things are different, as renting jet skis has a different minimum age requirement in Florida.
How old do you have to be to rent a jet ski in Florida? To rent a jet ski in Florida you must be at least 18 years old. You will also be required to carry acceptable photo ID and a boating education ID card.
Do you need a license to drive a jet ski in Florida?
All jet ski riders under the age of 22 years old are required by Florida law to carry a boating safety education card and photo ID is riding a PWC of 10 horsepower or more.
There are some exceptions to this rule though; if you are under 22 years old and are riding the jet ski with a person who is 18 and over with the relevant boating education ID, you will be exempt from the rule.
What is a boating safety education ID?
By passing a boating safety education test, you will qualify for the relevant ID. This will be issued by the Florida Fish and Wildlife Conservation Commission (visit the FWC website) and means you are qualified for life.
If you are on vacation on Florida and don't have a boating safety education certificate, you could find out about getting a temporary one. This is common with contractors, so could be possible for visitors to the state as well.
To find out more, check out the website of the Florida Fish and Wildlife Conservation Commission.
Safety rules for jet skis in Florida
Providing you have passed the test and have the ID; you can legally ride a jet ski in Florida at the set ages described earlier.
You will need to adhere to the water safety rules that govern the state. A selection of these include:
You can only drive the jet ski during daylight hours and stop 30 minutes before sunset and 30 minutes after sunrise.
You must always wear a personal flotation device (PFD) or life jacket that has been approved by the US Coast Guard (see which lifejackets we recommend for jet skiing).
You must attach the safety lanyard to your PFD and then to the jet skis cut off switch.
If you are aged 21 and under you must carry a boater education ID card as issued by the Florida Fish and Wildlife Conservation Commission.
You must not exceed the jet ski's load capacity as listed on the vessel's capacity plate.
You must drive the jet ski in a responsible and safe manner, and not disregard the safety of any other people on Florida waters.
You must not operate the jet ski in congested waters or drive to close to other boats and vessels.
You must adhere to federal navigational rules at all times.
Conclusion
Whilst it would appear that I was breaking the law as a youngster, it's not something I recommend. Thankfully I was never involved in an accident and managed to jet ski in Florida without any serious incidents.
That's not to say it wouldn't have happened though, and looking back, I think I was very lucky.
Jet skis aren't the safest of personal water crafts, and don't even have brakes on them. That can be a huge issue given how fast the modern jet skis and PWCs can accelerate at.
It's not advised that children operate jet skis, and any parent thinking about renting one in Florida this year please do follow the law and safety advice.