Winter camping can be really special. There are far fewer people around, no busy campsites, just space and peace to really be at one with nature. But what about when you take your dog winter camping? How will he or she cope with the cold, what do you take with you, and is it even a good idea?
I went winter camping with my dog about last year and aren't afraid to admit that I could have been better prepared. Based on what I learned then, I've put some tips together below so you can learn from my mistakes.
Winter dog camping tips
It is perfectly possible to camp in winter with your dog, you just need to be prepared.  Unlike summer, you know it is going to be potentially cold and wet so go equipped and this applies to your dog too.
Here is my list of key requisites for you and your dog to enjoy a special winter break together under canvas.
1. Make sure your dog is dry before bedding down
Your dog will need to be warm at night and it is key for your comfort and his that he goes to bed dry. In the colder months, towelling down is sometimes insufficient particularly if your dog has a long coat.
When you are back from your adventures, dry him superficially with a towel and then pop a mini fleece over him.  These have wicking properties and will dry his coat and keep him warm.  At night you can take this off and swap it for a dog onesie made of soft, cosy fleece.
Some people even swear by dog sleeping bags. Here's one a doggy sleeping bag on Amazon which has great reviews.
In case you're wondering, this was my first mistake. My hound ran in the tent, soaked my sleeping bag, and I had that horrible wet dog smell all night.
Handy Hint: Here are some more tips on how you can keep your dog warm when camping.
2. Get your dog warm, waterproof and reflective clothes
You can buy waterproof dog trousers which are a great idea for really soggy days and particularly deeper snow conditions.
If your dog is outside for a lot of the daylight hours, then he may need a warm rug or coat to wear. Choose some which are reflective as you could easily be walking in the dark as early as 4 pm in the depths of winter.
Fluorescent coats will help you keep an eye on where he is in the dark and if he slips his lead, it will help other people spot him particularly if you are near a road. Here's a fluorescent dog vest I recommend from Amazon.
3. Double up on gear that could get wet
Double up on everything – rugs, coats and bedding, just in case you have an unexpected leak in your tent.
It can be really difficult to dry things in the winter so make sure you take a sufficient supply so there is always something warm and dry for your dog to wear or sleep on.
4. Keep your dog safer in the dark
I previously mentioned a reflective dog jacket, but there are also some other items I wouldn't now do without when taking my dog winter camping.
Some people use collars with a blinking light for walking in the dark (see this one on Amazon), they catch the eye and it is really easy to keep track of your dog's location.
You can also use GPS on an attachment to his collar, invaluable if he wanders off or he does get completely lost.
5. Keep your dog safe from the fire
One of the best things about winter camping is the fireside. Unless your dog has experienced open fires in your home then you might need to introduce him to the fire with care as he won't understand the risks.
The best way to make a fire is to dig a pit which you then circle with rocks.  Clear all debris away from the area around the fire so that nothing can catch alight from a stray spark.
Your dog must be supervised at all times.  You can buy a toddler safety screen to put over the fire to protect from sparks or even take a fold up fireguard.
Remember, even when the fire is out the ground will still be hot so the screen should remain in place, so your dog doesn't inadvertently walk over the embers and burn his paws.
6. Bring more dog food than usual
Make sure you have enough of your dog's food – his appetite may increase as he will be outside a lot more and in colder temperatures.
This was another of my mistake. My dog got really hungry when we went winter camping, and on the last day he had to share my food as I'd run out of kibble.
7. Have access to fresh and un-frozen water
Access to fresh water is crucial; an early morning priority is to unfreeze water after night-time temperatures.
If you keep water with you in the tent, you will find that just a degree or two up on the outside temperature will slow down the freezing process.
8. Take dog supplies when walking in the cold
When you are out walking your dog in the cold, make sure you carry a pack of essentials for your dog. He might need some extra warmth.
I would also recommend taking plenty of water with you. Your dog may be much thirstier than he is at home because he is taking more exercise than he usually would when camping.
9. Take care of your dog's feet when walking on frozen ground
For long treks over cold or frozen ground, consider the option of dog booties, well you would wear walking boots wouldn't you and so your dog's paws are going to be working much harder than in his normal daily life.
A footsore dog is not going to able to walk but dog boots will protect his feet from unusual terrain and possible injury allowing him to walk in comfort for longer. Some dogs can easily get sore pads when walking for hours over frozen ground and injury is much more commonplace in the snow where it is impossible to see hazards underfoot.
There is a huge selection online of dog slippers, socks and boots for almost every conceivable scenario.
10. Take your dog's medication and documents with you
If your dog is on medication, make sure you have plenty to take with you, look up and keep a couple of phone numbers for vets in the area local to where you are staying.
It might also be worth taking your dog's documents with you. If he should become ill when winter camping, it could be helpful to the vet you go to see.
11. How do you keep dogs warm in a tent?
In the cold winter months, keeping warm is of paramount importance. You and your dog should both benefit from your body heats, but I'd also recommend insulating your tent properly, so your dog and you keep as warm as possible.
I've put some tips together on how to insulate a tent in the winter. You can see use those notes to keep you and your pup warmer when winter camping.
12. How cold is too cold for dog camping?
This really depends on your dog. The larger you dog, the more tolerant they will be to the cold, particularly if they are one of the breeds that work in cold weather. I'm thinking of huskies and St Bernard's here.
The majority of larger dogs won't be too cold camping when the temperatures are 35 degrees Fahrenheit and above. Smaller breeds will struggle more in the cold, and will cope best when the temperature is in excess of 45 degrees Fahrenheit.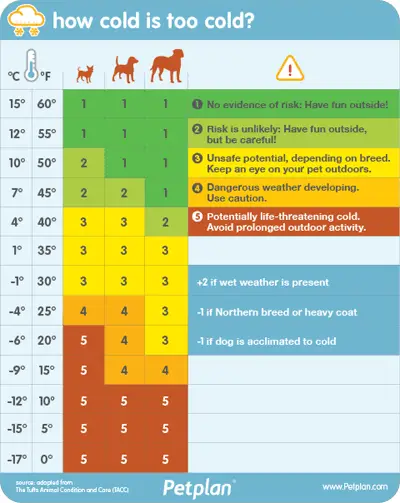 13. Pack a dog first aid kit
I assume you will be taking a first aid kit for yourself, but you should also pack one for your pup. Winter camping with a dog does come with risks, for example, they can actually get frostbite.
You can buy dog first aid kids on Amazon.
Conclusion
Winter camping with your dog can be a lot of fun, but not if you're poorly prepared like I was. He will need to sleep inside your tent (read more about how to prepare a dog for sleeping in a tent), but there is so much more to it as I'm sure you can tell now.
Having read my notes, if you don't really fancy taking your dog camping in the winter in the harsh environments, you could look at glamping. There are now a lot of sites around the country that let you take your dog with you, particularly in the colder off seasons.
There are some really luxurious offerings available which will feel like you still have all your home comforts around you in the colder, darker weather. Equipped with fridges, toilets and showers, this can the best of both worlds and makes winter camping with a dog a lot easier.
However you decide to do it, don't let me put you off taking your hound with you in the winter.
Imagine those amazing star-studded night skies far away from light pollution – winter skies offer some of the best stargazing opportunities.
Enjoy atmospheric evenings around the campfire chatting and conversing in the glow of the firelight. Winter has a unique and mystical vibe all of its own which many people miss out on as damp, cold weather is their cue to stay indoors.