Camping with your dog is terrific fun, it's great to be able to have a holiday and not leave your trusty canine friend behind, after all… he is part of the family.  It's so exciting to be able to explore new places together and your dog will love it! But how do you tent camp with a dog?
When camping with a dog where does he sleep? You have two options when you camp with a dog. He either he sleeps in your vehicle or he joins you in your tent. Most campers let their dog sleep in the tent, but not all campsites are dog-friendly so check beforehand.
How do you tent camp with a dog?
But before you ponder more over the ideal sleeping arrangements, take a shiny wet nose through some of our pre-planning tips to ensure you enjoy the best holiday with your dog.

It includes some tips on how to tent camp with a dog, where they can sleep when camping, and even if you need to get them their own sleeping bag (here's one on Amazon)!
1. Check the campsite first
Not all campsites are dog-friendly so you will need to make sure you pick one that accepts dogs. Some dog-friendly campsites will place a limit on the size, number or breed of dog, check this out if they don't actually ask you the question.
Some sites won't accept breeds listed under the 1991 Dangerous Dogs Act if you are based in the UK (see UK government website definition).
2. Check for separate camping charges for your dog
If you do manage to find a dog-friendly campsite or campground, take a careful look at any additional fees – sometimes these can be in the small print!
Whilst you might find lots to do with your dog when camping, you might have a pay for the privilege of canine company.
3. Find out what dog facilities the campsite has
Some campgrounds are better than others. We've stayed at a campsite before which said we could take our dog and advertised a penned in dog walking field.
When we got there, the dog field was only about 10 by 10 meters so even though he could go off the lead, it wasn't much of a run-about area for him. We were really disappointed!
4. Research the local area
Research thoroughly the surrounding area.
There is no point staying next to a glorious coastline full of beautiful beaches if dogs are restricted on the beach during the weeks you intend to holiday.
All that means is that you'll have to your dog back to sleep in the tent or vehicle whilst you go out. Not much fun for Fido I'm sure you will agree.
5. Obey the local laws on transporting dogs
Whilst your state or county might be fine with your dog simply getting into the trunk or boot, some state laws will differ.
Some areas have legislation that requires dogs to be suitably restrained whilst in transit. It is really unsafe to travel a dog loose so consider a harness with a seatbelt attachment or a travel crate or a dog guard if you have an estate car, 4×4 or SUV.
The latter can double up as sleeping accommodation if necessary if the place you stay prohibits dogs sleeping in a tent.
6. Make a note of local vets near the camping area
Hopefully you will find lots of things to do with your dog when camping. Whilst in most cases there will be lots of fun to be had, please make a note of contact details of local vets in case of emergencies.
When you have chosen your campsite, look up the contact details of a couple of local vets so you are prepared in case of accident or illness.
7. Take your dog's records with you camping
If you do need to visit the vet whilst tent camping with your dog, it's important to have everything the vet might need.
Take your dog's vaccination record with you.  If he needed an unexpected hospital stay, he would not be admitted without evidence that he had been vaccinated
8. Get your dog used to sleeping in a tent
If you do decide to let your dog sleep in the tent with you, get him familiarised to how it all works.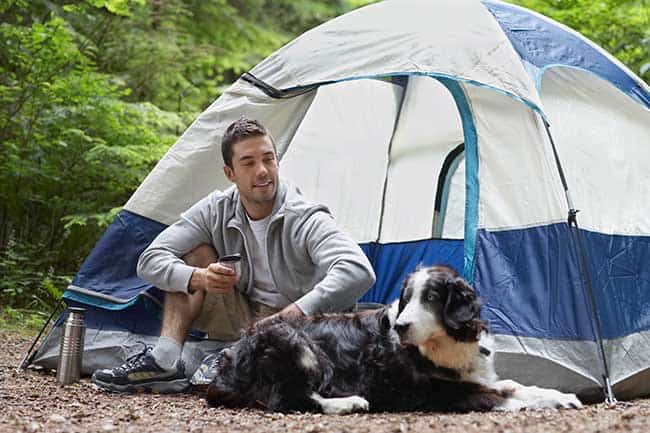 Familiarise your dog with the concept of sleeping in a tent by pitching yours in the garden and having a practice.  It will take a while for your dog to settle down if you are in a new place with all the stimulus of different things.
If your dog is also a little uncomfortable in a tent for the first time, then you may not end up getting much sleep!
9. Make sure the tent is big enough for you and your dog
As a dog owner, you probably already know how much room even a small dog can take up when sleeping on your bed. Now imagine what that would be like in the small confines of a tent – and I'm not even going to mention what it's going to be like if you have a farty dog!
Make sure your tent is big enough – a big dog can take up as much room as another person
10. Be wary of local livestock near the campsite
If you are a town dweller and planning a break in the country, check out what livestock is around locally. Dogs will naturally chase cattle, sheep or horses and can cause serious accidents and injuries.
Farmers have the right to shoot dogs which are worrying livestock. Your dog may not have seen any of these animals before, how will he react?
Time for bed!
Most people I know have their dog sleep with them in their tent.
Some dogs can be happy in a crate in the car if they are used to it or in the boot of an large car ,but your car may not be close to your tent and this raises issues of security – and heat!
Some sites will not permit dogs to remain in vehicles overnight and it is easy to see why.
If your dog is quiet and content to, he can sleep in a crate outside your tent but shade must be provided in the form of an awning.
What are the downsides of sleeping with a dog in the tent?
This is easy!
Prepare for copious amounts of dog wind – you will regret letting him have that spicy sausage from the barbeque – and snoring.
There are some amongst the fairer sex who might say that they don't really notice any difference between the dog and the other male occupants, but we couldn't possibly comment!
What items should I take for my dog when camping?
You will need to pack for your dog just as you would pack for any other member of the family.  Here is our holiday list for camping with a dog.
A sturdy lead and a spare one in case you lose the first. It is sometimes worth taking leads of different types and lengths for different situations.
A spare collar, it is easy to lose his collar in unfamiliar terrain.
A reflecting collar or harness for evening and night time which will make him easier to spot.
Your dog's normal bedding whatever that may be. Don't introduce something new which he is not familiar with even if you can't resist that doggy sleeping bag at the camping shop – he will probably turn his nose up at it. Familiar bedding will help him feel secure in his new environment and give him a reference point.
Favourite toys.
Food and water bowls and enough feed for the duration of your stay.
An ID disc on his collar or harness which gives your surname and a mobile number – don't use a landline as you are not at home.
If your dog is ID chipped, take details of the microchip number with you on holiday.
A small canine first aid kit, this could contain a tick hook really useful if you are staying in a forested area, some sticky bandages and antiseptic.
Consider a GPS tracker which can attach to your dog's collar and will help you locate him if he wanders off.
A stake that you can secure his lead to whilst you are busy doing other things around the tent like cooking.
A couple of scoops and lots of poop bags to clear up after him.
Loads of dog towels!
Does my dog need a sleeping bag?
Speaking from experience, there's no way I would manage to get our dog into a sleeping bag.
Yes, you can buy them, but honestly, most dogs are quite happy just to bed down on top of your sleeping bag, or in a corner of the tent.
Think carefully about whether you have the right type of dog
If your dog is nervous, anti-social with other people and/or other dogs or maybe just as incessant barker then camping is not for you.
Camping does not suit certain dogs so, be honest and ask yourself whether your dog will cope with the experience and behave. A badly behaved dog is a nightmare on a campsite and spoils it for everyone else including you.
Understand how taking a dog will impact on your holiday
You won't be able to leave your dog unattended at the campsite and certainly not shut in your tent whilst you are elsewhere. Is he really going to be involved in everything that you do or will he just cramp your style?
Research local pubs and hostelries that are dog-friendly so if you want to go out to eat, he can come with you.
Most pubs are quite happy for you to sit outside with a well-behaved dog but if it's raining, will they let you into the bar where food is served?
Related questions
Is there a central reference point online which lists all the dog-friendly campsites?
There are easy to access directories on the internet which will give you a list of sites based on location. Always double check before you book in case the information is out of date.
Social media is a good way to get into the local canine scene in the area you want to holiday in and nothing beats on the ground knowledge from other local dog owners.
Can I let my dog socialise with other dogs on the camp site?
If your dog is fairly low key and friendly, then he will be able to make some new canine friends. Most sites have a rule that dogs remain on a lead at all times but dogs do enjoy each other's company and you may well find that your dog spies a new walking companion.
You wouldn't opt to camp on a dog-friendly site if you disliked dogs or didn't have one so you will find most other campers are friendly and accommodating.
If you are a newbie to the camping with dog scene, there is bound to be someone there who can help you out if have a problem or difficulty.
Can I take my dog camping in the winter?
Yes you can. But it does come with some challenges. Read my tips on taking a dog camping in the winter.
Conclusion
So, what do you think? What are your experiences?
I would love to hear what you do with your dog when camping and how do you tent camp with a dog?
Get in touch on social media and share your thoughts with us.