I fell in love with equestrian camping as a child. My aunt owned horses and I loved camping so she would arrange trips for me each summer. I have amazing memories to this day. What I did find surprising though, was how little other people know about the possibilities for overnight camping with horses – so I decided to create this quick explainer.
What is equestrian camping? Equestrian camping is quite simply camping out with your horse. It's a great way to travel to new places, enjoy different locations and scenery, and maybe take in some training sessions at an equestrian centre.
I love equestrian camping. It's also something you can do with your friends at home or even as a staycation on your own yard, garden, or field space.
Equestrian camping is whatever you want it to be – you, your horse and a tent!
Equestrian camping isn't always what you think
Most people think of equestrian camping as quite basic and rustic, unaware that it can include facility use, help from trainers on site and can be combined with day trips out of the saddle.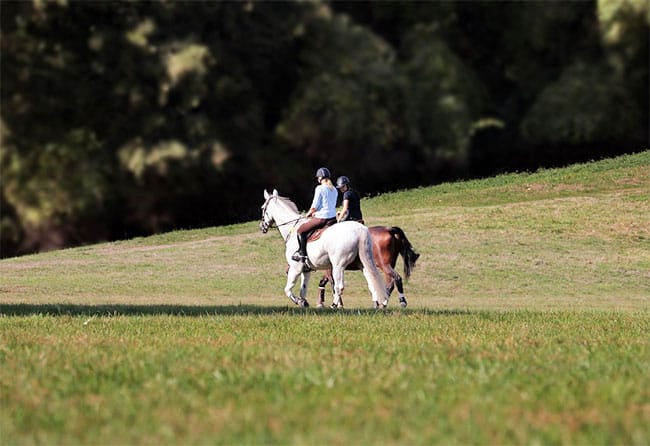 You don't always have to pitch your own tent either, some centres provide a full-on glamping experience for those who don't want to sacrifice their luxuries.
What to consider when planning an equestrian camping trip
There are lots of different facets and options to think about when planning an equestrian camping trip or if camping overnight with horses.
Here are some ideas to get your creative juices flowing:
Do you want to stay in your region or travel to a totally different geographical area or even, another country?
Do you intend to just ride out each day or are you interested in some tuition, maybe taking advantage of show jumps or a cross-country course? You could create a mix of both.
Do you want to ride daily or combine your equestrian camping with a chance to take in some new sights on foot and give your horse some welcome time off?
Are you going to return to base camp each night or can you ride from one site to another? Some centres have provision to send on your luggage so it is waiting for you on arrival at your next destination.
Do you want to stay somewhere totally equine so a centre which can offer you a stable and a groom if needed or are you aiming for a traditional campsite which just has an area dedicated to visitors who bring their own horses?
If you don't own your own horse or you think your horse may not be suitable for an enjoyable 'camp out' experience, that's no problem. Some riding centres will provide both the camping and a suitable mount.
If you really like your creature comforts, then camping does not have to involve a tent, you can also hitch up a caravan or even take a motor home. Or arrange someone else to pitch you a luxury bell tent at your chosen campsite, I believe this is now known as 'gallamping'.
Those of you with horseboxes that have living accommodation can use this as both your horse's transport and your hotel for the night – all you need is an electric hook up.
If you really want to strike out on your own and plan a linear off radar route, then you will need someone as back up who can drive the trailer for you and move all your camping equipment, meeting you at your next staging post.
Consider setting up a camping trip with a group of friends or your local riding club. Some organisations like the British Horse Society (view website) already offer this – a sort of Pony Club camp but for grown-ups with scheduled riding and training during the day and lots of interesting talks and activities for your time out of the saddle in the evening.
How do you camp with horses?
There are a number of factors you need to consider if you want to camp with horses.
You should first of all objectively review whether your horse has the right temperament for a camping holiday.
Is he likely to become excited at a new place or completely overawed and upset?
Does he have any vulnerabilities in terms of age or health?
Remember, you may be too far away from home for your usual farrier or veterinary practice.  It is wise to take a veterinary First Aid kit with you and research the names and numbers of local support before you leave. Social media can help you with this and provide recommendations.
I also recommend that you consider biosecurity – for example, there is an outbreak of Equine Influenza at the moment.  Your horse should be appropriately vaccinated, preferably with a six-month booster and you should be able to verify the vaccination status of any animals that you come into contact with.
Ask yourself whether the horse will be comfortable in this routine? He probably won't be if he is stabled 24/7 but if your horse happily lives out during the summer months, then a spell of time in a different field should prove no problem.
Check out carefully the provision made for your horse and exactly what is included in the price.
Where is the best place to find equestrian campsites listed?
Just as camping has reinvented itself with luxury tents, tree houses and woodland pods, so equestrian camping has now become all the rage.
A good old internet search will bring up hundreds of options in the UK and overseas.  You can either start your search based totally on geographical location or, you can approach an organisation or group who may keep details of possible options around the country and work from that.
There is no substitute for 'on the ground' information and a horsey Facebook group is a great way to acquire local knowledge about the region you are going to stay in, both before your trip and when you are actually on holiday.
You may even be able to meet up with fellow equestrian enthusiasts as well who can share with you the local sights.
How much does equestrian camping cost?
Charges can be totally controlled by how much luxury you want and whether you want your camping time to include additional tuition.
Very basic accommodation, so just a spot to pitch your tent in a farmer's field can be as low as around around $30 in the US (£20 per night in the UK).
If you stay at a centre and want to add on lessons or facility hire, then the cost will mount up but the budget is totally controllable and based on what you decide to do.
If you are planning to ride in areas of outstanding natural beauty or along established trail rides in National Parks, check out whether you need a temporary permit and if there is a charge for this.
Are there any other key considerations?
Yes, think about the climate and terrain you are heading for and how it differs from what your horse is used to.
For example, if you are a UK rider think how your will horse cope with things like the Scottish midge population. What is the ground like underfoot on the rides you want to take? Imagine the boulder-strewn slopes of Bodmin Moor or Dartmoor? Should your previously unshod horse have a set of shoes fitted in anticipation?
Just as you may take special care to prepare for a holiday in some exotic clime, so your horse needs the same degree of thought and preparation put into his travel plans.
Related questions
Is there a checklist available of everything I need to take for my horse and things I should do to prepare?
The best thing to do is speak to a friend or someone who has been equestrian camping before.
Experience is totally invaluable in these situations and will help you remember all those odds and ends that it just wouldn't have occurred to you to pack.
If you are used to competing away from home and being self-sufficient then your kit list will be very similar.
Do I need special equestrian camping gear?
You need camping gear and most of the kit you would take with you when you go out to a competition with your horse. So that's something for all weathers!
But you do not need specific equestrian camping gear.
Most of the items you will already have, it's just a question of finding a tent and basic equipment depending on the provisions and services available.
You can opt for something totally self-catering and take everything yourself or you can arrange to have more facilities available to you on arrival.
Conclusion
Equestrian camping is great fun and there are hundreds of horse-friendly campsites around the US and UK to choose from. I hope you've enjoyed this quick introduction on how to camp with horses, and what the possibilities are for overnight stays.
Over the coming months we will be publishing more content about this outdoor pursuit, so keep on coming back!