Since bungee jumping became established as an extreme sport in the late 1980s, there have been many weird and wonderful ways in which enthusiasts have attempted to go one better. It's no surprise then that bungee jumping from a helicopter soon made the list of crazy jump attempts. But can you safely bungee from a helicopter?
Can you bungee jump from a helicopter? You can bungee jump from a helicopter. However, there only a handful of bungee operators around the world who offer the experience, and the prices can be expensive, sometimes as high as $10,000 US dollars. 
If you want to bungee jump from a helicopter, then I've listed a few of the commercial operators who offer this as an experience a little lower down the page. Before that though, let's look into the history of this particular jumping style.
The history of helicopter bungee jumping
If you've read my overview of how bungee jumping originated you will be aware of AJ Hackett from New Zealand. He's often referred to as the god father of bungee, and there's good reasons too!
As you would expect, AJ Hackett was the first person to ever bungee jump from a helicopter. He performed the stunt in 1990 over the Normandy region in France, with a total fall of 380 meters.
Fast forward to 1998 and AJ Hackett was ready to bring the experience to the masses by opening Europe's first ever permanent heli-bungee experience. The experience was set up in collaboration with the Sports Unlimited company offering helicopter jumps in Nuremburg, Germany.
In 2005, AJ Hackett actually set a world record for the highest tandem bungee jump. And yes, you guessed it, from a helicopter. The record was achieved over Bondi Beach in Sydney, Australia at a height of 300 meters. The record has still not been beaten. If you fancy beating the challenge check out the Guinness World Records website listing.
Helicopter bungee jumping locations (where you can do it)
There aren't many places around the world you can bungee jump from a helicopter. As you can imagine, the logistics and expense play a huge part. However, there are some places you can do it. Here's a list of locations and operators I found. 
1. Kiskunlacháza-Bankháza Airport, Hungary
This Hungarian operator lets you bungee from a height of 600 meters, with a bungee cord that will extend to 110 meters. It's a very professional company and they give you the option of swinging in an upright position or dangling upside down – it's up to you!
The entire experience takes one hour, with dates having to be booked far in advance as they don't operate all year round. You can see a clip of one of their helicopter bungee jumpers in the video below. 
2. Maggiore Lake, Italy
I am not sure if this Italian operator still offers the helicopter experience, as I've not found any information from the last 10 years. But I did see an old forum post from the early 2000s from a person who had done it with them, so get in touch for more details.
Their helicopter was said to climb to a height of 500 meters before letting the jumper out.
3. Lisbon, Portugal
The Impacto Bungee Jumping company are one of Portugal's leading operators, offering jumps from cranes and bridges… and also helicopters if you contact them for a quote.
They have been responsible for safely delivering thousands of bungee jumps since 1993 over Portugal and the Madeira Islands.
4. Various locations, Germany
The Jochen Schweizer Bungee Jumping company in Germany offer multiple locations around the country and have helicopters that will climb to 500 meters.
5. Nuremburg, Germany
This is the company I mentioned that launched with AJ Hackett in 1998. If you want to helicopter bungee jump in Europe, this is definitely the supplier to go with.
Sports Unlimited offer a heli-bungee jump from a height of 400 meters for those brave enough to take up the challenge.
6. Villarrica Volcano, Chile
I've deliberately left this one until last because not only is it the most expensive, but it's also the most insane helicopter bungee jump you could ever imagine… it's over a volcano. And not just any volcano, but a live one. Check out the photo of the Villarrica Volcano lava below.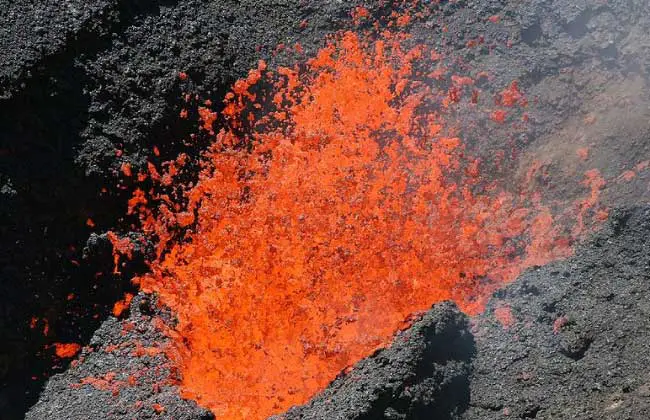 The experience goes something like this; you get in the chopper, rise up to 10,000 feet, put your legs onto the skids, and take in the breath-taking views of the Chilean countryside.
You then start to approach an active volcano with hot and bubbling lava. Will your nerve hold out? I hope so, because you're going to be plunge directly over the volcano… and you might even feel the heat.
The bungee cord will stretch to between 350 and 375 feet, meaning you end up dangling about 700 feet over the lava.
And if that wasn't crazy enough… they don't bring you back up but instead speed the 35 miles back to the local airport with you still dangling on the cord!
You will be paying big bucks for this experience as you can imagine. It's a 5-day experience which includes accommodation at a high-end resort.
If you want to find out more about this once in a lifetime experience, contact the company using the website address below.
How dangerous is it to bungee jump from a helicopter?
Bungee jumping isn't a sport for the faint-hearted. But, despite what might appear to be a high-risk activity, the deaths and actually quite rare. I previously wrote about how many people die bungee jumping, with the statistics reading at just over one on average each year.
When you put a helicopter into the equation, the risks are going to be very different compared to bungee jumping from a static platform.
According to reports I've read, jumpers experience increased swinging and pendulum motions due to the down draft from the chopper blades. If you have a weak stomach, it might not be for you.
There is also the added complication of the helicopter not having any on-board mechanism to pull you back in. So, once you've jumped, you're going be left hanging there until the chopper can land.
That in itself could present a higher risk of injury, especially when they start to come into land and lower you to the ground.
What you need to appreciate is that you've taken two activities and combined them into one. This means the risks of death will be multiplied, however small they might be.
Imagine what could happen to a helicopter in the worst-case scenario, add the worst-case scenario from bungee jumping and you have your risks right there.
However, with proper planning and experienced operators, the chances of an accident are extremely rare. 
Helicopter bungee jumping prices
It's hard to pin down average costs for helicopter bungee jumping because most operators don't offer it as a standard experience. Many will ask you to contact them for a quote.
The Chile Volcano experience obviously comes at a very high prices, but other operators can offer prices as low as $557 British pounds or $715 US dollars.
As with any bungee jump, how much it costs will depend on how high you go, the location, and the country the experience happens in.
Handy Hint: Read this guide to bungee jumping prices in different countries. 
Can you bungee jump from a plane?
In theory you could bungee jump from a plane, but there are no operators who offer this experience to the public. It's impractical, dangerous, and very hard to achieve, plus would require some extreme logistics to pull off.
The plane would need to be flying very slowly, and after the jump, the person will be trailing behind the plane rather than being in a vertical position. That alone sounds crazy enough.
But then there's the getting down again. I would imagine they would need to be wearing a parachute and have a mechanism to disconnect the bungee cord from their ankles in order to get to earth safely.
Will Smith's helicopter bungee jump
To finish up, I wanted to show you a video of movie star Will Smith bungee jumping from a chopper over the Grand Canyon. He did this in celebration of his 50th birthday and live-streamed the event on YouTube. 
Conclusion 
Now you know where you can do it, are you tempted to try bungee jumping from a helicopter? If you are, I would advise you contact the operators listed above at least 12 months in advance.
If you've never bungeed before, read these tips for first timers to help you get prepared for what the experience is going to be like.